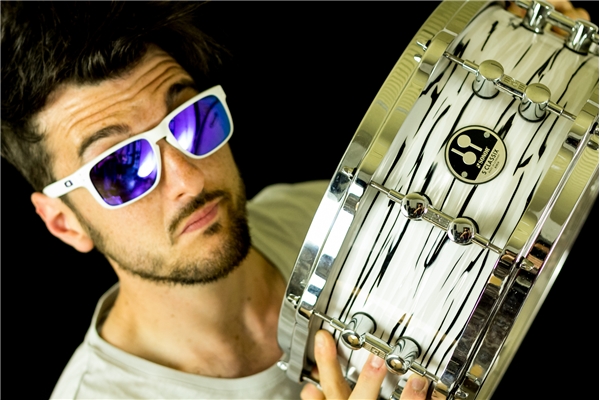 Diplomato presso le "SCUDERIE CAPITANI MUSIC ACADEMY". Musicista, batterista e didatta lavora a Viterbo.
Direttore della BACKSTAGE ACADEMY, laureando in Science della Comunicazione. Frequenta un Maester di strumento presso il "THE COLLECTIVE Music College in New York" uscendo con la votazione di 92/100.
Ha lavorato con: Gianluca Capitani (Steve Vai, Robben Ford), Antonella Nina Ricci (The Blackmills, Buddy Miles), Maurizio Luciani (Piazzolla), Claudio Merico (Consoli, Capuano), Susan Didrichsen (Spyrogyra), Jojo Mayer, Alex Azzali (Ashent), Carlo Bellotti (Alkemist-Fanatix/Gf 93), Alessando Paolucci (Raw Power), Vincenzo Mario Cristi (Vanilla Sky), Daniele Landi (Interno 17), Karl Potter, OrchestraLunata and Maurizio Gregori (Banda Bassotti), Karl Potter, Maurizio Montanesi (Baglioni, Zero), Federica Sciamanna (The Shiver/Giuseppe Ottaviani), Stefano Tocci (I.C.O), Diego Riccitelli (Amana Melomè), Enrico Mianulli (D'Avola, Melomè), T.W.O.P, The Flog, Gabriele Conti (Forum Music Village), Simone Ferrini and many others.
Ha condiviso il palco con: Misfits, The Ark (Swe), Faith No More, Chemical Brothers, Papa Roach, Pendulum (Eng), Brujeria, Immolation, Negramaro (Ita), Vanilla Sky, Meganoidi, Perturbazione, Yuppie Flu,Therapy, Negura Bunget (Ro), Ragnarock (Nor), Cathedral, Kathaarsis, Damned Spirit Dance (Hun), The Stone (Srb), Fen (Eng) and more.
FINCH inizia la sua formation musicale a 15 con Danilo Bonucci. Studia per 5 press la STAFF MUSIC SCHOOL di Viterbo (Italy) con Claudio Gioannini, Fabrizio Nesta ed Antonio Flinta.
A 22 anni inizia il percorso accademico con SCUDERIE CAPITANI MUSIC ACADEMY. Durante l'esperienza Newyorkese studia con Pat Petrillo, Peter Retzlaf, Frank Kats, Jason Gianni e altri. In Italia attualmente studia con il Maestro Gianluca Capitani.
Frequenta stage e clinic presso: Umbria Jazz 2004, AgriTuRock 09/ 11, E-Mom 09/10/11, Horacio Hernandez, Billy Steuart, Terry Bozzio, Dave Wackel, Virgil Donati, Walter Calloni, Stefano Bagnoli, Luca Capitani Gavin Herrison, Benny Grheb, Bill Bruford, Mario Riso, Paolo Pellegatti, Gavin Harrison, Jojo Mayer, Chris Coleman and others.
Molte riviste internazionali hanno parlato di lui: PERCUSSIONI Italia, DRUMSET MAG, ROCKSOUND Italia e Uk e BIG CHEESE Uk, METAL HAMMER and KERRANG.
È ospite su ROCK TV con la band The Shiver.
Lavora come Drum Tutor a RAI1 (National Channel) per "Ti Lascio Una Canzone" con l'Orchestra Lunata. Ha lavorato come Promoter e coordinator Ufficio stampsa per Akemist-Fanatix agency ed attualmente coordina e gestisce l'Ufficio stampa di SCUDERIE CAPITANI MUSIC ACADEMY.
Creatore e ideatore dell' "ALL DAY DRUMS Summer Camp" in Italia. Inizia nel 2013 il "PASSION & BALANCE Clinic Tour" toccando città italiane ed europee.
DISCOGRAFIA
2006 "SHADE'S CHANGING" con The Shiver, prodotto da by Falp Records (Ita).
2008 "INSIDE" con The Shiver, prodotto da Uk Division Records (Uk).
2009 compare nelle segment compilation: Rock sound Compilation (Ita), Big Cheese Mag.
"Bulldozer Compilation" (Uk), Fireworks Compilation (Uk) and NEW DRUMEMRS VOL. 3 by Scuderie Capitani.
2009 "A NEW HORIZON" con The Shiver, prod otto negli USA da Reality Ent. In Europa e resto del mondo da Aural Music Group. Edito e promosso da WARNER MUSIC GROUP.
2010 "L'OTTAVO GIORNO" con Flog, prodotto da CNI Music Italy.
2011 "THE ACOUSTIC EXPERIENCE #1" con The Shiver, distribuito in via digitale.
2012 "ALL STORM DISSOLVE TO WATER" Track 9 con The Steps prodotto da Cosecomuni Studio (Velvet)
2014 "THE DARKEST HOUR" con The Shiver, prodotto da Vincenzo Mario Cristi/The Alternative Factory
TOUR UFFICIALI
2005 - frequent il concorso "Young Drummers" by FTB, classificandosi tra i primi 4.
Suona con la band The Shiver in apertura dei NEGRAMARO.
2006 - Suona con Karl Potter in occasion dell' "Estate Viterbese". Con i The Shiver suona all'EPHEBIA FESTIVAL con THE ARK (Swe), THERAPY e PERTURBAZIONE.
2007 - Primo tour official del disco "INSIDE" in Europe UK e Itala con The Shiver.
2008 - "Special Halloween UK Tour" con The Shiver.
2009/2010 Durante quest stagione suona oltre 110 gigs in tutta Europe in locali storici come: Underworld (London), DeathFest (Leeds), Limelight (Belfast), HellGarve Fest (Faro), Silver Church (Bucarest), Markhalle (Hamburg), K17 (Berlin), The Garage (Bergen), Santana 27 (Bilbao), Escape Metalcorner (Wien), The Asylum (Birmingham), The Rots (Antwerp), Dublin Castle (London), The Old Bell (Derby), The Masque (Liverpool) e molti altri. 2009 - "A NEW HORIZON European Tour Part 1. " con The Shiver.
2010 (Spring) – European Tour" con T.W.O.P .in occasione dello "SPIRIT OF THE LAND TOUR" con NEGURA BUNGET
2010 (Summer) – Exit Festival (Srb) con T.W.O.P. con Faith No More, Chemical Brothers, Pendulum.
2010 (Summer) – OTAAVO GIORNO Tour in Italia con Flog
2011 - "A NEW HORIZON European tour Part.2" con The Shiver. Durante questo tour la band suona in Russia a spalla dei PAPA ROACH, Germany, Uk, Belgium, Austria, Switzerlad, Malta e Italy.
2012 - "The Devil's Rain Tour" (Gemania e Polonia) con The Shiver, a spalla dei MISFITS.
2012 (Spring/Summer) - "A NEW HORIZON Last tour" con The Shiver - Belgio, Uk, Italia and Spagna.
2012 (Winter) / 2013 (Spring) - "WAITING FOR THE DARKEST HOUR Tour" con The Shiver - Russia, Italia, Grecia.
2013/2014 (Winter) - "OBLYVION TOUR" con Oblyvion a supporto della band Turisas - Italia
2014 (Winter) - THE DARKEST EUROPEAN TOUR con The Shiver (Uk, Belgio, Germania, Svizzera, Olanda)
2014 (Summer) - THE MIDSUMMER NIGHT'S TOUR con The Shiver (Spagna, Italia)
2014 (Autumn) - THE 1384 KM TOUR con The Shiver (Italia)
VIDEO UFFICIALI
"Batteristi in Erba" by Fbt 2005
"Crushing Down" by The Shiver (Diretto da Francesco Federico) dall'album "A New Horizon"
"The Fragile Sound" by The Shiver (Diretto da Simone Schiralli and Max Ferigo) dall'album "A New Horizon".
"Universe" by Nina Ricci & Her Secret Room (Diretto da Stefano Donato)
"Empty people, Empty Words" by The Shiver (Diretto da Milkers Studio)
"Invisible" by Drum Set Mag 2014
"Ocean" by The Shiver (Videns Prod) - Rotazione su Rock Tv / Mtv Italy & Uk
"The Key" by The Shiver (MgMl Prod)