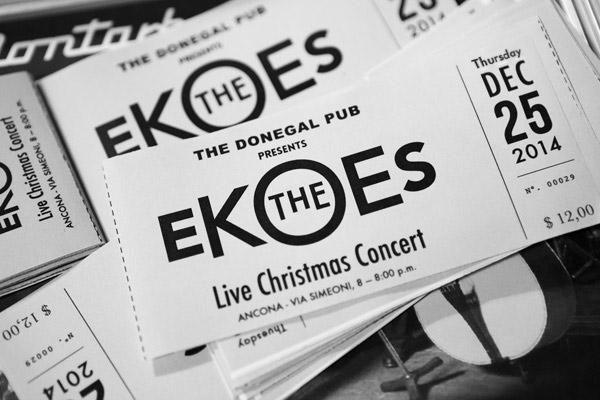 La coesione e la condivisione dei nostri valori sono le cose di cui andiamo più fieri. Non solo a Natale.
ENJOY THE CONCERT!
THE EKOES saranno in tour dal 31 dicembre 2014 al 6 gennaio 2015.
Nel frattempo vi auguriamo un Sereno Natale e un felice 2015, sperando che sia per tutti voi l'occasione per dedicarvi alle vostre passioni e per coltivare i valori in cui credete.
Harmony and the value of sharing are things that we are proud of. Not only on Christmas Day.
ENJOY THE CONCERT!
THE EKOES will be on tour from Dec 31st, 2014, until Jan 6th, 2015.
In the meantime we wish you all a very Merry Christmas, and may a Happy 2015 help you share your passion and pursue the values that you believe in.
Abbiamo deciso di trasmettere la nostra passione mettendoci in gioco.
Quella passione per la musica, che condividiamo con tutti voi, ci ha spinti a suonare un grande classico natalizio rivisitato in chiave rock.
We decided to do something a little different by using our energy and enthusiasm in an enchanting way.
We have the same passion for music as you all have and this inspired us to perform a Christmas song, reinterpreting it as a rock masterpiece.
Grazie alla collaborazione di un'eccellente casa di produzione audiovisiva, Multivideo, e di un affermato regista italiano, Paolo Doppieri, abbiamo girato un videoclip per dire al mondo quanto sia opportuno coltivare le proprie passioni, anche in momenti difficili, e mostrare quanto la condivisione dei valori rafforzi la vita in azienda: tutti gli attori del video appartengono alla grande Famiglia EKO.
Thanks to the talented film production company, Multivideo, and to a well-known Italian movie director, Paolo Doppieri, a short music film was created to demonstrate our passion and enjoyment at the workplace – even during difficult moments – and share the value of daily life within our company: all of the people that appear in this video belong to the EKO Family.
Ti sei perso il video di Natale della Eko dello scorso anno?