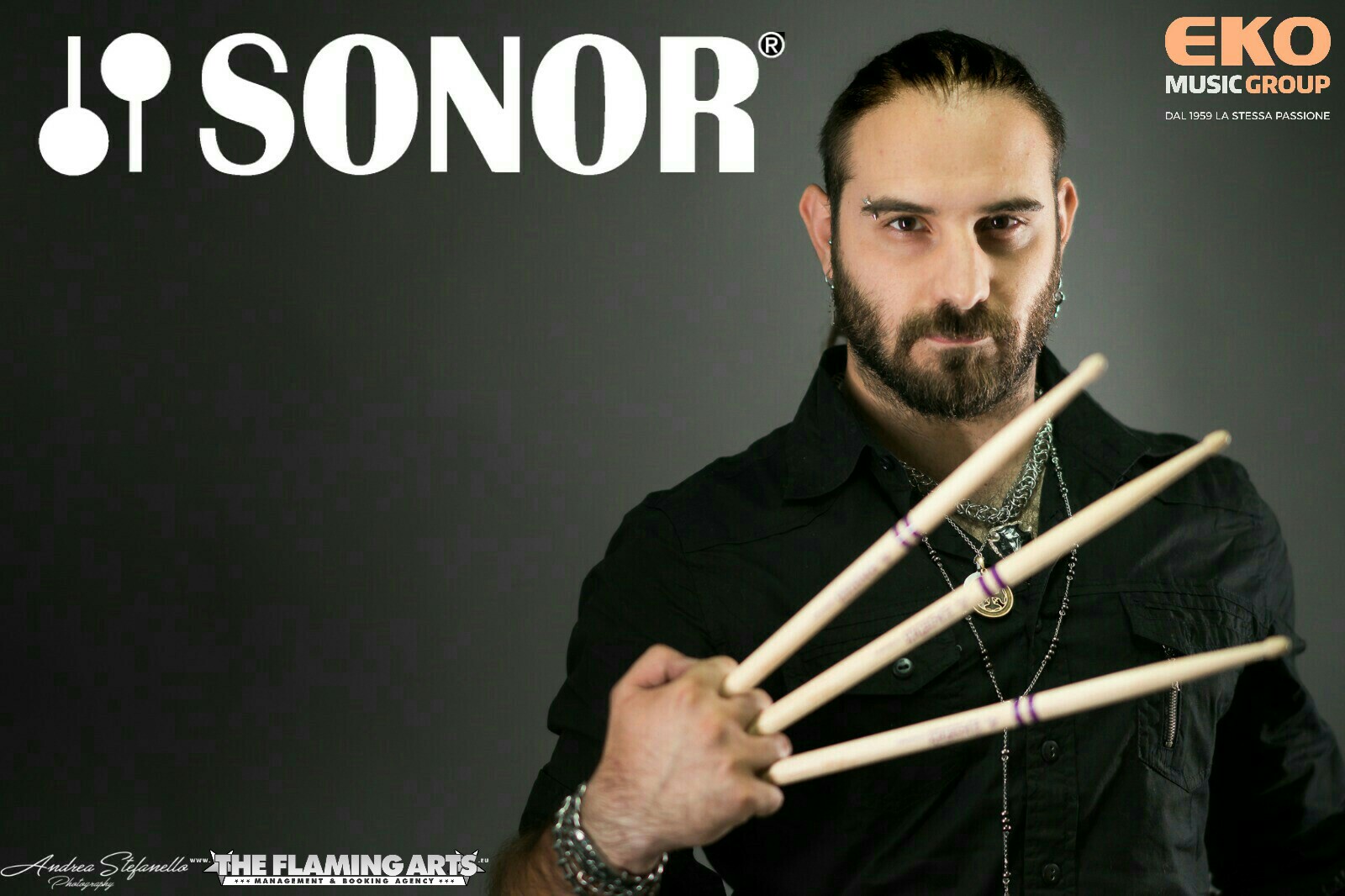 "I marchi Sonor ed Eko offrono una qualità e professionalità imparagonabili! Far parte di un grande Brand come questo, è un grandissimo onore. Ho trovato subito un ottimo feeling e groove sul Drumset SQ1, per me Sonor rappresenta la scelta migliore per un batterista".
Classe 1992, Giovanni Noè, batterista Rock. La sua passione inizia nel 2009 portandolo a studiare lo strumento sia come autodidatta sia con maestri come David Folchitto (FleshGod Apocalypse) forgiando la sua esperienza e il suo stile a furia di Festival e Tour europei!
Vince il concorso per l'ammissione al CET - La scuola di Mogol, affinando ulteriormente la composizione e la tecnica. Attualmente in forze e cofondatore della band hadrock Sailing to Nowhere, la cui ascesa e attività Live sembrano inarrestabili. Firmano inoltre nel 2018 il contratto con uno dei più grandi Management internazionali: "The Flaming Arts Agency" (Lacuna Coil, Sepultura, Within Temptation, Testament...)
Giovanni ha diviso il palco con leggende come Blind Guardian, Stratovarius, Dragonforce, Mago de Oz, Angra, Moonspell, Alestorm, Septic Flesh, Edu Falaschi, Operation Mindcrime, Freedom Call, BloodBound, Saltatio Mortis, Goblin, Almanac, Dagoba, Eldirtch, DGM, Twilight Force, AnTheos, Rhapsody Of Fire, Secret Sphere, Vicious Rumors, Labyrinth.
HIGHLIGHTS:
- "To the Unknown" Debut Album – October 2015
- Malpaga Folk&Metal Fest 2015
- "Into The Storm" ITALIAN TOUR 2015
- MASTERS OF ROCK (CZ) Winter 2015
w/ Stratovarius
- METAL FOR KIDS FEST 2016
- "ShipWrecking" ITALIAN­ TOUR 2016
w/ Alestrom & Edu Falaschi
- "Landing" GERMAN TOUR ­2016
- WINGS of Bea Metal fest 2016
- MALPAGA Fest 2016
- TOUR 2016 w/ ANGRA
- Tour 2016 w/ Arthemis
- FEST with GOBLIN, prima Proiezione ITaliana dell'Alba dei Morti Viventi con colonna sonora suonata dal Vivo.
- Headliner NO LIMITS FEST 2016
- UNLEASH THE POWER FEST 2016
w/ Mark Boals (Malmsteen)
- "To the Unknown Anniversary- Planet (Ex Alpheus)
- April 2017 - "Lost in Time" world Release
- ITALIAN & EUROPEAN TOUR 2017
- Headliner Rock in Park Fest @ Legend (MI) 2017
- Chania Rock FEST ( GREECE) w/ Blind Guardian 2017
- HaedLiner Sinistro Festival (FI) 2017
- Reaching into infinity TOUR 2017
w/ Dragonforce
- Signing with "The Flaming Arts Agency", one of the best well-know booking and management agency in the international scene
- Spanish Tour 2018
w/ Secret Sphere
- European Tour 2018
Prodotti correlati